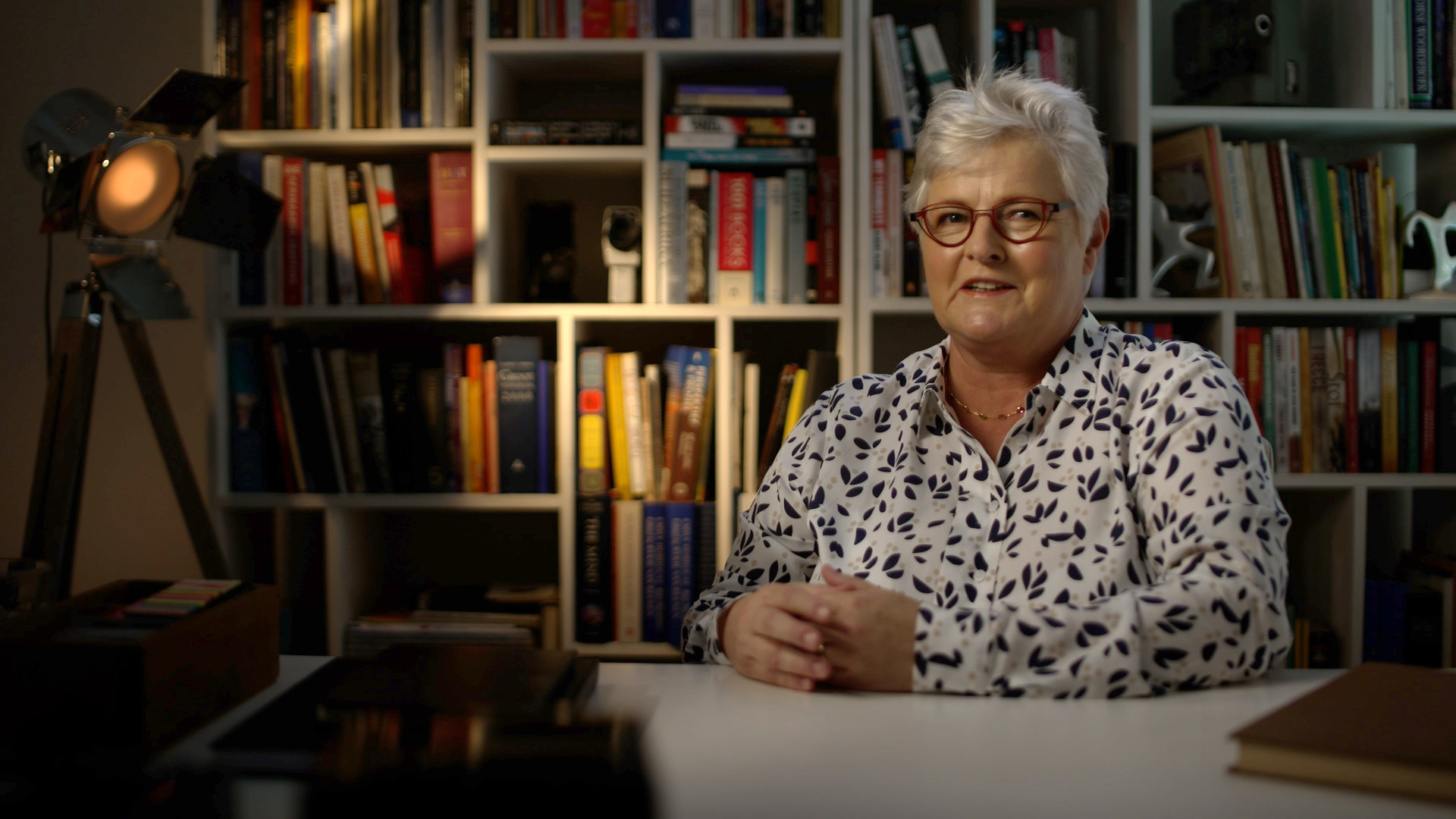 10 questions to Karen Meiring
In the first of a series of interviews with Silwerskerm role players and stars, festival creator Karen Meiring shares her memories and interesting anecdotes from its early days. Find out how and why the festival came into being, and why our TV and movie industries might have looked totally different without it.
The first Silwerskermfees took shape in 2011 in Prins Albert, a tiny Karoo town, with a single feature film. What was the story behind it?
The Silwerskermfees came into existence for many reasons. In my view, it was important for kykNET to embrace the film and TV industries by creating a space where young as well as established and veteran filmmakers and important role players could connect and share their experiences, and where new talent could be identified and unearthed. In those days kykNET did not have many producers for text-driven productions. The need wasn't only for new talent, but also for diversity in terms of tone and presentation. And we simply had to do something to stimulate the Afrikaans film industry to make more and better movies.
With so many contemporary local films, it's easy to forget how barren our film industry used to be. For instance, only one Afrikaans film was released in 2010, and in the eighties and nineties you were lucky if theatres were showing any Afrikaans movies at all.
Thanks to a good relationship with Nu Metro's Danie van der Merwe and Ricky Human, and our shared needs for content and involvement in the industry, Jan du Plessis and I went into partnership with Nu Metro to create a festival.
Oom Jans Rautenbach sparked the decision to launch the festival in Prins Albert. He was the first patron of the festival, and Laetitia van Dyk has a small theatre named after him in Prins Albert. As in the case of the first KKNK, we invited only the media and selected guests for a special experience. We shared the vision and possibilities of the first Silwerskermfees with this influential group. It was an exceptional outing with some of the country's leading critics and role players. Coincidentally, 'n Saak van geloof – the only new film we had to show – was shot there.
After Prins Albert we also presented a Silwerskermfees at Nu Metro theatres in Pretoria and the Cape. Since we didn't have enough material, we supplemented the festival with existing Afrikaans movie classics. With the selection of films, one of our goals was to reconnect celebrated acting duos.
We presented the films as premieres, and all the actors were invited to the first screening. The movies were Die Bankrower with Marius Weyers and Sandra Prinsloo, My Broer se Bril with Cobus Rossouw, Môre, Môre with Sybil Coetzee and Hans Strydom, Katrina with Jill Kirkland, and Babbelkous with Katinka Heyns and Tobie Cronjé.
Would you like to share anecdotes from the first festival?
The name of the festival caused a bit of a hullabaloo. Language purists insisted that it should be "Silwerdoekfees" instead of "Silwerskermfees". But these days we now longer use the word "silwerdoek", and "TV-doek" or "selfoondoek" sounds wrong. With second screening experiences and digital platforms envisaged for the future, we decided it had to be "Silwerskermfees".
In 2012, the festival moved to Camps Bay with an astonishing ten short films and five features making their debuts. How did this happen?
The short films were the result of our Silwerskermfees short-film competition. The aim was to discover the new producers we were looking for. Jan du Plessis and I also put our heads together and came up with a "pre-buy" funding model to assist producers with up-front financing for their films. This meant more movies could be made for the second festival.
Finding a suitable venue where everyone could stay together, watch movies, attend discussions to create a shared experience was a huge challenge. It had to be a place where filmmakers could feel special, with the right atmosphere and location they'd talk about, and to which they'd want to return. The facilities had to meet the requirements of a fully-fledged festival. Initially, we considered a wine estate, which didn't pan out. Then I started asking around and inviting suggestions. That's when Saartjie Botha reminded me of Rotunda and the Bay Hotel in Camps Bay, where I'd attended numerous successful events, and the producer Jaco Loubser helped me with the right contact. And presto! It's ten years later and we're still there!
What do you remember from the first Camps Bay Silwerskermfees?
The morning of the opening we welcomed and addressed all the short-film contestants. I'll never forget the picture of the audience – a palpable excitement and expectations of ambitious filmmakers.
I also remember the tension before the first premiere and the relief when people left the Rotunda and there was an unprecedented buzz. The spontaneous get-togethers and deep discussions into the early hours of the morning. The organic networking of producers setting up meetings with filmmakers to discuss ideas that would lead to the next film and project. The unbelievable talent the short films would bring to the fore. Short films that had the potential to spawn a series or feature – and did. It was all incredibly exciting and a festival for the next year could be confirmed then and there.
The first festival also confirmed our hunch that not being prescriptive with the short films was the way to go, enabling the filmmakers' unique voices and potential to come to the fore and that they could realise their vision without interference.
How do you think the festival contributed to the South African film industry in the past decade?
The festival created opportunities, hope and expectation. It brought new energy and dynamic to our content landscape and created a platform to tell our stories visually.
The short-film competition guaranteed new talent and diversity year after year, and we could focus on the development of feature films along with M-Net. Many of these movies also told our truly South African stories abroad. The authenticity of the stories and the quality of the movies led to invitations to important international film festivals, where our films often win major prizes.
What sets the festival apart from other film festivals?
The Silwerskermfees is a small festival with a big impact. It doesn't include overseas films and we do more than screen movies. Our aim is to support and promote the local industry. For that reason, mentorship and partnerships are and will always be an important part of the festival.
Although kykNET's mandate is Afrikaans content, we focus on developing diversity, new producers, filmmakers and writers on a broader spectrum.
The festival has no doubt created many work opportunities. How did kykNET as a television channel benefit from the festival?
Creating work and exposure leads to new opportunities. In 2010, kykNET produced one drama series and one comedy series per year, and there was only one soap. Since then, kykNET has grown to more than one channel, and with Showmax and DStv BoxOffice also in the picture, the need for new content has grown enormously. kykNET currently creates six drama and four comedy series per year. And there are always three soaps and one telenovela on air. The Silwerskermfees was our main source of new producers, actors, writers and directors.
The festival established meaningful synergies. For instance, Suidoosterfilms was founded by Silwerskerm alumni Gambit Films, along with Homebrew Films, to create the soap Suidooster. Since Suidooster had to be shot in the Cape and there wasn't a studio available to accommodate it, it led directly to the development and building of Atlantic Studios by a group of producers who joined forces to fill this gap. Atlantic Studios is now home to most kykNET programmes created in the Cape.
Of course, many of the actors, directors, technical staff and producers who showcased their work for the first time at the festival can be used for new programmes and movies on M-Net and kykNET.
The audio-visual landscape keeps on changing. How does the festival adapt to that?
We bring our programme compilation in line with the latest trends by inviting international guests for master classes, and by including relevant speakers in our panel discussions. The essence of the festival is the sharing of knowledge and the creation of an environment that will inspire new thinking.
Looking back on a decade of Silwerskermfees, what are you proud of?
I am very proud of how the festival has grown, despite limited budgets. In collaboration with our partners, we could guarantee funding to maintain an annual event.
I am also proud of the exceptional movies that debuted at the Silwerskermfees and went on to win prizes at international festivals and received international distribution contracts.
It is also wonderful to see how many of our short-film creators who took their first steps in the industry at the festival are now among our leading filmmakers who share their knowledge.
But I burst with pride when someone says how much they loved one of our movies.
What are your hopes for the festival's future?
The festival is in the capable hands of Ricky Human as programme manager and Christel Sampson as project manager. They innovate and expand the festival offering each year, and Christel makes sure that we have sufficient sponsorships. And they are not afraid of a challenge! In 2020, when Covid-19 had an impact on the festival and the entire industry, they still presented a hugely successful webinar to ensure that the festival keeps developing.
My wish is that the festival continues to grow and be expanded as a project that challenges, stimulates, and keeps producing content of international quality. Also, that it guarantees larger networks and distribution opportunities for producers, and that everyone continues to look forward to an indispensable festival that plays a part in the advancement of a healthy South African movie industry.