Nkateko Mabaso, CEO: M-Net

In these uncertain times, we turn to the creative industries to contextualise, question and make sense of the world around us. Our capacity to adapt and innovate defines how we see the future.
We are proud of the standard of our local productions and seeing our feature films taking centre stage in the international arena is a testimony of excellence. M-Net has and will always be committed to telling the stories of the communities we serve.
The Silwerskerm festival was created not only to showcase local talent but to be the building blocks of careers in the film and television industry. We look forward to engaging with international partners during the webinar and to inspire and gain more momentum as global players on the African continent.
Karen Meiring, MNET: Director kykNET Channels

Ten years ago, we were looking for new, sustainable ways to find fresh, exciting talent and content for kykNET. The idea of a short film competition was born, and the first kykNET Silwerskerm Film Festival was launched in August 2011 in Prince Albert.
The 2020 Silwerskerm Webinar is the start of a bigger, sustainable conversation with content producers and filmmakers across genres, formats and platforms to explore and develop new landscapes and spaces.
"No boundaries" would have been a good theme for our first webinar – no boundaries between countries, thoughts, formats or industries; an opportunity to build on, in new partnerships.
With the Silwerskerm Webinar, we are also establishing SilverScreentalkS (SilwerSkermgeSprekke) as a new regular institution on our website. There will always be the need to share and to carry on conversations, and a new future is created by chewing on original ideas and developing implementable concepts.
We welcome all our international experts, Dorothee Wenner and Kisha Imani-Cameron, all our panellists and all the facilitators taking part in the webinar. Thank you for your enthusiasm and your willingness to share your expertise.
There is endless potential for authentic Afrikaans films and content because it is representative of a diverse South African community rooted in a unique African language.
We are very excited about our firstborn and look forward to all the siblings to follow.
Enjoy the first Silwerskerm Webinar and make full use of the network opportunities it offers.
Jan du Plessis, MNET: Director M-Net Channels

In February 2020, the movie world rolled out the red carpet for a glorious year. Yes, turn back the clock a few months: Bong Joon Ho's South Korean masterpiece Parasite captivates the world. It is fresh and inventive and reels in a slew of international awards, making a clean sweep at the Oscars. It even rewrites history as the first non-English winner in the Best Picture category.
On the same stage, another pioneer enchants the world of cinema when he dedicates his statuette (for Best Adapted Screenplay) to all indigenous children who want to sing, dance and write stories. Taika Waititi is the first person of Maori descent to win an Oscar.
These triumphs inspire filmmakers the world over to dream big. Broad smiles all round.
But now, still in 2020, masks conceal our emotions.
The pandemic hit the "pause" button on major Hollywood productions, as well as a string of planned local M-Net films. While the creation of a movie currently goes hand in hand with numerous obstacles behind the scenes, one wonders what the future holds for the industry at large – two, five, ten, twenty years on.
Now is the time for thinking out of the box. With a generous helping of creativity, imagination and chutzpah, we can continue to tell our stories. Perhaps even better than before. After all, in the early 1920s, audiences queued up for the first "talkies". Now we release local films, such as Griekwastad and Knuckle City, directly to DStv BoxOffice – and shatter viewership records.
Filmmaking will always be a team sport, and M-Net remains every player's number-one fan. We hope this virtual get-together sparks new ideas for the road ahead. Because our stories have to be told.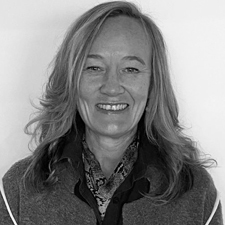 Ricky Human, Programme Director: kykNET Silwerskerm Webinar
When the pandemic struck and made our planned 10th Silwerskerm Film Festival impossible, we decided to press pause and present our first-ever kykNET Silwerskerm Webinar. During a time where filmmakers everywhere are in limbo, we framed the programme around international guest speakers and local filmmakers who are keen to share their knowledge in workshops and discussions around issues like film support services, international distribution, film finance and post-production. We are also introducing a training session on how to get your project noticed, and in the Pitch to Us competition you can sell us your biggest, brightest ideas.
In the unchartered territory of the new normal, we recognise the importance of engaging with industry role players around the world to help shape the future of young and upcoming filmmakers and to investigate the shared challenges of the film industry at large.
In the true spirit of Silwerskerm, the webinar will include exciting screenings. Be the first to watch selected premieres in different formats on a digital platform with filmmakers sharing their journeys.
The first Silwerskerm Webinar will be an immersive, inspiring experience. Join us and learn how to best embrace this climate.
The kykNET Silwerskerm Film Festival was launched in 2010 as an initiative to support the local film industry. In the past decade, it has grown into one of our country's most respected film festivals with a unique focus on local interest and talent.
The first Silwerskerm Festival, hosted in the Karoo town of Prince Albert, featured only one film with the apt title, 'n Saak van geloof [A Question of Faith]. The belief in the potential of the local industry was not misguided. During the past decade, more than 160 short and feature films have debuted at the festival.
The film festival shows the commitment of kykNET and M-Net towards the development of local talent by providing a prestigious platform and financial support to South African filmmakers.
The 10th annual Silwerskerm Film Festival was scheduled to start on 24 August 2020 in Cape Town. Due to the Covid-19 pandemic, it isn't possible to host al the industry role players in one location. The impact of the pandemic has also delayed the production of all new films that were to be screened at the festival. The 10th Silwerskerm Festival is now planned for August next year.
The first kykNET Silwerskerm Webinar, however, takes place from 2 to 4 September 2020, providing support and inspiration to the film industry in this challenging year.
The Silwerskerm Webinar is an informative online event with a focus on funding, post-production, short film development and other exciting and relevant industry issues. Speakers will range from local industry experts to major international players. Screenings and Q&As with filmmakers will be presented in partnership with M-Net and South Africa's first online movie rental service, DStv BoxOffice.
The web portal for the Silwerskerm Webinar is not only a pop-up site but a new resource that will also be used for future online events, screenings and discussions.
If location is everything, Cape Town and the Western Cape have it all. Think towering mountains and rolling waves, bustling cityscapes and desolate landscapes, and much more. Some of the most popular locations in the Western Cape are found in Cape Town's central business district, with a variety of urban looks and various types of architecture, as well as stunning natural beauty. We are so diverse that almost any country in the world can be replicated within a two-hour radius of Cape Town. The only limit is your imagination.
Die doel van Dagbreek Trust is die bevordering van die Afrikaanse taal en kultuur. Ons bewerkstellig dit deur kernbefondsing en projekbefondsing wat Afrikaans in sy volle diversiteit (oor rassegrense heen) bevorder met instellings wat hulle as betroubare vennote bewys. Ons visie is die volhoubare gebruik van Afrikaans deur ondersteuning van projekte wat die historiese bewussyn van Afrikaans, taalgemeenskaplikheid en konstruktiewe posisionering van die Afrikaanse taal aanmoedig.
MNET: Director kykNET Channels: Karen Meiring
MNET: Director M-Net Channels: Jan du Plessis
SILWERSKERM WEBINAR TEAM
Project Manager: Christel Sampson
Programme Director: Ricky Human
Creative Director: Haddad Viljoen
Webinar Content Editor: Danie Marais
Webinar Coordinator: Nicky Meiring
Webinar Content Translator: Christine Kühn
FOR M-NET CHANNELS
Head: Local Production & Independent Films: Kaye Ann Williams
FOR KYKNET CHANNELS:
Senior Marketing Manager: Leo Smit
Brand Manager: Cherize Dartnall
Brand Coordinator: Suné Els
Senior Publicity Manager: Suzaan Keyter
PR & EPG coordinators: Lindi Herbst and Herschelle Benjamin
Senior Manager: Scripted Content: Nicola van Niekerk
Commissioning Editors: Wikus du Toit and Tina Kruger
WEB DESIGN
SF Digital (Design of silwerskermfees.co.za website) Marnus van Niekerk and Sharlene Safi
Clearwater Entertainment (Design of webinar graphics) Hennie van Deventer and Eden Wessels
WEBINAR TECHNICAL SUPPORT
Red Pepper Pictures (Technical service provider) Cecil Barry and Wayne van Schalkwyk
Ovation Art (App and Guest Relationship management) Melodie Schoeman and Marisa Buys
VERIFICATION OF PITCH TO US RESULTS PWC